Zits can appear every now and then and it's most annoying when it pops up on a big day! Geez, it certainly drives me nuts when it happens. Over the years I have used different OTC (over the counter) zit preparation like benzoyl peroxide to get rid of the zits and occasional bad breakouts. It did help in getting rid of those unsightly blemishes and so I stick with it for a long time. But as health advocates started to campaign for natural products to increase awareness among the general population, I decided to try using natural products to cure zits.I found it very effective in getting rid of the blemishes and it's very pocket friendly as well ;-) Here's what I used:
Bitter Gourd/ Ampalaya

(Momordica charantia):
Bitter Gourd is now gaining popularity not just as a vegetable but for its medicinal properties. Aside from lowering down blood sugar in diabetic people, this vegetable has an antimicrobial property too. I have personally experimented with this when I had a bad breakout. I took one medium sized bitter gourd and grated it, took the grated fleshy part and squeezed out the juice. Then I placed the bitter gourd extract inside a clean small bottle and stored it inside the refrigerator. I would thinly apply the extract all over my face and leave it on the entire night and after 2 days the zits were clearing out. By the third day the zits were totally gone. I know for some this might seem like a hassle but it's worth trying especially if you are low on your budget. Plus one of the big bonus I get by going natural is that there are no toxins in my skin which are produced by the chemicals used in commercially prepared pimple products. Thereby lessening the likelihood of premature aging.
Guava / Bayabas (Psidium Guajava):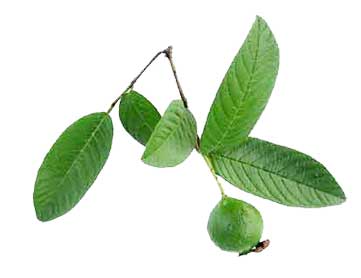 Guava is most notable not just for its delicious fruit but for its medicinal properties. A proven antimicrobial used in wound care, guava leaves are also used for curing pimples and zits by taking a handful of young guava leaves and boiling it in 2-3 cups of water. Wash your face with warm water from the boiled guava leaves. apply your cleanser and get 2-3 pieces of the boiled guava leaves and use it as a facial scrub. Scrub it gently all over your face and wash it with the remaining water from the boiled leaves. This also helps in getting rid of the blemishes and prevents breakouts. It makes the skin look visibly clear and pimple free.
Malunggay (

Moringa oelifera):
Moringa or malunggay is considered as a poor man's vegetable but today it is gaining popularity for it's medicinal use. Moringa grows widely in southeast Asia especially in the Philippines where it grows abundantly all over the country. This miracle vegetable is loaded with vitamins and minerals and helps cure several ailments including skin conditions. Last year, I had developed cellulitis on my index finger due to an allergic reaction to detergents. It was such a bad case, my finger looked like a sausage and it was severely painful. At the same time I had a bad pimple breakout. A good friend of mine who is a health enthusiast gave me pure moringa capsules which I took twice a day. After taking two tablets on the first day the swelling disappeared, on the second day my finger was near normal and my blemishes were gone. On the third day my finger looked very normal and on the fourth day it was completely healed and I was pimple free too. I experimented taking the moringa capsules when I had a bad breakout of pimples and the results were amazing! After a day the pimples was gone! Ever since that day I would regularly take moringa capsules like a daily supplement. I never experience having zits and cellulitis ever again. The capsules are sold very cheap, so it's affordable and very effective. For those who wants to have great looking skin I suggest you take moringa capsules every day.
Benefits of Going Natural:
1. Cheap and readily available. You don't need to break your bank to buy that anti acne cream. No need to wait until the product arrives when it's sold out because it's abundant everywhere.
2. Won't cause premature aging. Most of these facial creams and anti- acne creams that are commercially prepared are harmful to our skin. The chemicals produces toxins that can cause premature skin aging and even skin allergies. When you go natural it is guaranteed fresh with no preservatives or harmful chemicals that can damage your skin.
3. No side effects. Natural remedies do not cause side effects when used properly and in appropriate amounts compared to commercially prepared products. There are no synthetic chemicals that are used so there is no worry of overdose and side effects.